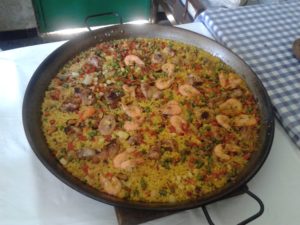 Paella is a traditional spanish dish with rice, vegetables, meat and fish. It's name comes from a wide frying pan "paellera" originally used to prepare this delicious plate.
There are several types of paella:
Marinera: rice with fish, molluscs and crustaceans.
Mixed paella: paella with meat and fish.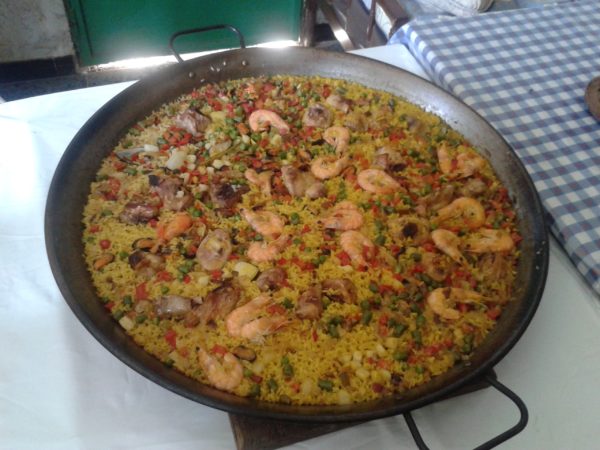 | | |
| --- | --- |
| | |
Before preparing the paella, putting the clams in a bowl with fresh water and a pinch of salt, and leaving an hour to release the sand deposited in them.

Then putting them in a pot with boiling water and leave a few minutes on the fire in order to open them.

Cleaning the mussels, removing the beard and anything else attached to the shell, putting them to cook in hot water until they open by themselves, only for a few minutes.

Then putting them to drain.

Cleaning the prawns and the crayfishes and putting them in the fridge.

Cleaning and slicing the sepia, putting it in the fridge.

Cleaning and slicing the chicken breast and the meat of pork, putting the meat in a bowl with salt and pepper and mixing well.

Peeling the garlic and slicing it, peeling the onion and cutting it into small pieces.

To prepare the paella using the classical pan with the handles.

Putting a tablespoon of olive oil and when it will warm adding the meat, let it brown without it cooks too much.

Removing the meat from the pan and setting it aside; with the same oil frying the onion with a pinch of salt and a garlic.

When they are golden, adding the paprika and letting it cook a bit; adding the tomato sauce and the sepia.

Adding the food coloring and rice, mixing thoroughly and leaving a few minutes, then adding the hot chicken broth and boil.

Lower the heat, adding crayfries, prawns, clams and mussels without the shell, and leaving some in their shells for garnish.

It is important that the rice does not dry out, it is not left without the broth, in which case adding a little.

When it will be ready, leave the paella a few minutes, and then serving it hot with mussels and clams in their shells as a garnish.