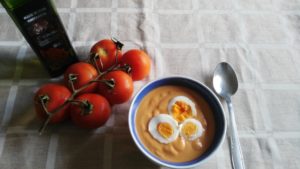 Salmorejo is a Spanish cold soup, typical of the Córdoba area in Andalusia, with the texture of a cream. The traditional dish is served by adding hardboiled egg, pieces of raw ham (jamón serrano) and olive oil.

Cutting the bread into small pieces and putting it in the blender container.

Cutting tomatoes in small pieces and putting them on the bread and adding the salt.

Peeling the garlic, cutting it and adding it to the bowl with bread and tomatoes.

Adding the olive oil and using the blender to make the cream.

At the end, putting the salmorejo in the fridge and serving it cold, adding the hardboiled egg and raw ham on the cream. Enjoy your meal!