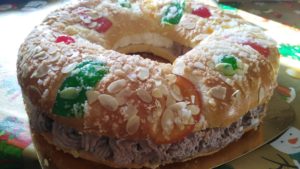 The "roscón de Reyes" (Kings' big doughnut) is a traditional dessert of January 6, the day of the Kings. It is a doughnut adorned with different colors of slices candied fruit, and usually filled with cream, truffle or chocolate.
Inside there are some surprises that you can meet eating a slice. In Spain the surprise consists of small statues of the Virgin and St. Joseph and a bean (who finds this one, he will have to pay the next doughnut).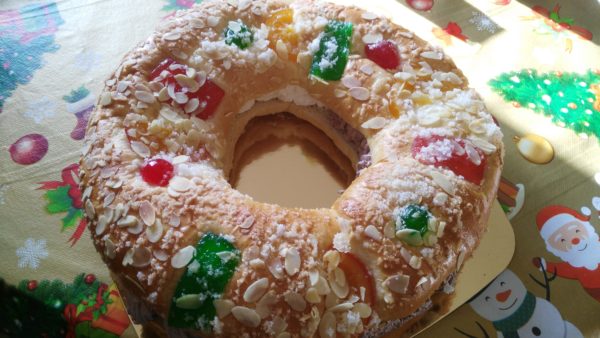 | | |
| --- | --- |
| | |
Mix a little warm milk with 3 tablespoons of flour.

Add the yeast in little pieces and mix it all.

Allow to ferment 20 minutes in a warm place.

After that, in a large bowl add the remaining flour and other ingredients: sugar, grated skin of lemon and orange, salt, milk, eggs, and the yeast that was fermented, the orange flower water and butter or margarine.

Flour a smooth surface and knead with hands; If you need, add a little flour to better work with the dough.

Give her a round shape like a ball and keep it in an airtight container for two hours in a warm place.

After this time the dough should be increased twice.

Pull it out of the container and knead again on a floured smooth surface.

Give her doughnut-shaped and make a large hole in the center with your fingers.

Let the doughnut rest one hour in a warm place.

Then pass the beaten egg on the doughnut and decorate with candied fruit.

Add the figurines and the bean in the dough.

Put it in preheated oven at 18o C for 20 minutes.

Let it cool, and if you want you can cut for the middle and fill it with cream, truffle or any other favorite filling.