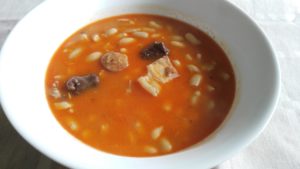 The "fabada" is a typical dish of Asturias (an autonomous community of north-western Spain) made from beans (in Asturian: fabes) and various types of meat such as sausage, ham, lard or bacon.
Its use dates back to the sixteenth century. The type of bean that is used in Spain is called "de la Granja" (Farm), and is a very buttery variety, the most appropriate for this dish.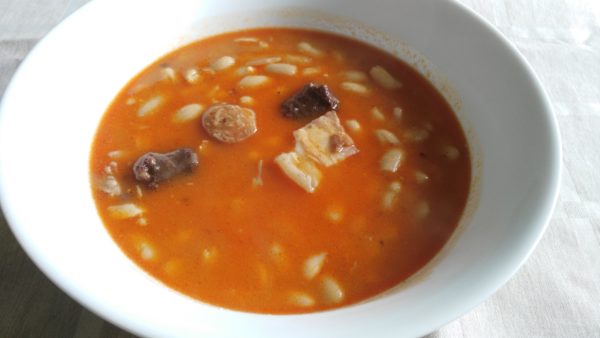 To prepare the fabada, first put beans in a water bath throughout the night.

The following day, put beans in a saucepan, low and wide, and almost entirely covered with water.

Cook over high heat until they reach boiling point.

When it starts to boil, put the meat (sausage, bacon, ham and black pudding).

Remove the foam that forms.

After two hours of cooking add saffron.

Lower the heat and add salt to taste.

Allow to cook beans slowly at a low temperature for one hour, stirring occasionally with a wooden spoon.

When they are ready, remove the beans from the fire.

Cut the meat into slices.

Serve the beans with pieces of meat on it.