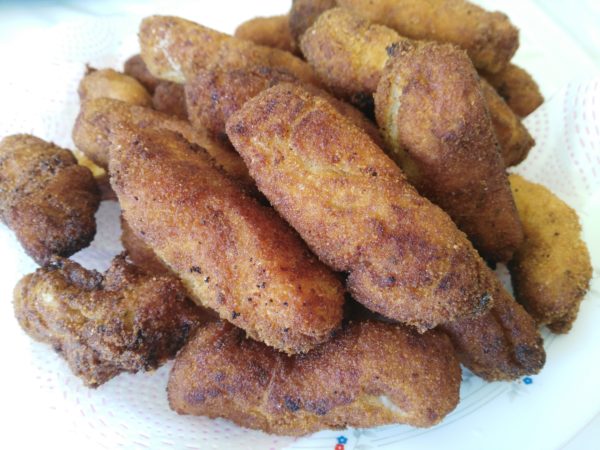 1/2

onion

1

clove of garlic

200

gr

raw ham

2

eggs

flour

breadcrumbs

sunflower oil

1/2

milk

300

ml

chicken stock

80

gr

flour

80

gr

butter

nutmeg

salt

parsley
1/2

onion

1

clove of garlic

200

gr

raw ham

2

eggs

flour

breadcrumbs

sunflower oil

1/2

milk

300

ml

chicken stock

80

gr

flour

80

gr

butter

nutmeg

salt

parsley
Cut the ham into cubes and set aside.

Then prepare the béchamel sauce: put the butter in a saucepan over low heat and let melt it.

Then add the onion and garlic cut into pieces; five minutes later put also the diced ham, and cook them for a few minutes.

After that add the flour and turn well.

Continue incorporating the milk little by little, without stopping to turn, to prevent lumps from forming.

Add the parsley, a pinch of nutmeg and a pinch of salt.

After cooking the béchamel for about 20 minutes, it is ready as soon as it becomes thicker.

Turn off the heat and put the béchamel in another container to make it cool, closed with the wrap.

Once cooled, put it in the refrigerator for at least an hour.

Once the time has passed, prepare a flat plate with flour, a soap plate with beaten eggs, and another with breadcrumbs.

Take the béchamel from the refrigerator, and with the hands give it the shape of a little croquette, then pass each one in the flour, then in the egg and finally in the breadcrumbs.

Finish all the mixture of the béchamel sauce, putting aside the croquettes on a plate, ready to be cooked.

At the end of the preparation of the croquettes, put in a pan plenty of sunflower oil and turn the stove on high heat.

When the oil is hot enough, fry the croquettes for a few seconds, turning them to cook on all sides.

When they are cooked, place the croquettes on a plate covered with kitchen paper to absorb excess oil. Now you can eat them! Enjoy your meal!