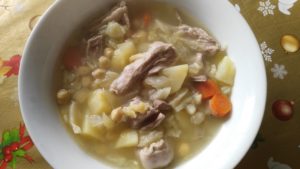 The "cocido" is a stew prepared in a pot with water, meat of pork, veal, chicken, or lamb, salami, vegetables (cabbage, turnips, potatoes, carrots), legumes (chickpeas, beans) and other additions.
There are variants of cocido by zone. Among the most famous there is: the cocido madrileño, cocido of montañés, the maragato.
Cocido maragato is the most traditional in the León area. The main ingredients are: soup, cabbage, chickpeas and seven meat. It serves the contrary that the cocido madrileño: meat first, then the vegetables and finally the soup.
Cocido montañés is a typical dish of Cantabria that unlike other cocidos, it has not among its ingredients chickpeas, but rather white beans, cabbage, sausage, cutlet, "morcilla", lard, and the stuffing of crumbs, egg and meat.
Cocido Madrileño is one of the most representative dishes of Madrid cuisine. It consists of a stew of chickpeas which is the main ingredient. Let's see in detail the recipe of the cocido madrileño.
Leaving the chickpeas to soak during the night with a little salt.

In a large pot with plenty of water, put bacon, ham and beef thigh.

Lighting the fire and when it forms the foam, removing it.

Adding the chickpeas and lowering the heat, let cook slowly over two hours.

In a separate pot putting to cook the cabbage cut into pieces and the salami, for half an hour, using a little of the broth that you are cooking in the other pot.

After two hours, adding carrots and potatoes, and finally the chicken.

Adding more water if you need to.

Cooking the morcilla (black pudding) in a separate pan.

After the cooking time of the chickpeas, putting some of broth in a separate pot to cook the noodle or rice.

At the end, separating the meat from the vegetables in two dishes and serving. Enjoy your meal!