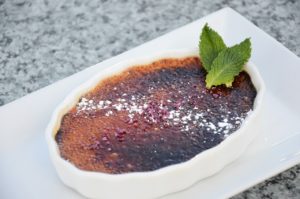 Catalan Cream is a sweet typical of Catalonia, Spain's autonomous community.

Put the milk in a kettle on high flame, add the lemon peel and cinnamon branch and cook until it reaches boiling.

Then turn off the fire, cover the kettle with a lid and let it rest for at least 30 minutes.

After that, put the egg yolks in a bowl, add the sugar and mix with a wooden spoon.

Add to the mixture the maize starch and mix it all together.

Using a colander, pour the milk into the egg and sugar mixture.

Mix to amalgam all the ingredients.

Pour the contents into the kettle and cook over medium heat, mixing with a wooden spoon.

The cream will be ready when a thick layer on the wooden spoon is made.

Cool the cream at room temperature and then put it in the refrigerator.

Serve it in low cups and sprinkle with sugar that will be burnt with the oxidic flame or baked for a few minutes with the grill program.